It appears that the only way Pennsylvania is going to get back on track is if the ink in Gov. Tom Wolf's veto pen runs dry.
Earlier this week, while small businesses and laid-off employees across Pennsylvania continued to experience economic ruin thanks in large part to the governor's flawed policies, yet another relief package was sent to his desk — and once again it was denied.
These bills are important!
HB 2388 would require the Department of Community and Economic Development to issue waivers to the governor's business closure order to vehicle dealers, lawn and garden centers, cosmetology salons, barber shops, messenger and agent services, animal grooming services and manufacturing operations, allowing them to get back to work.
HB 2414 would direct the Department of Community and Economic Development to issue a waiver that would allow real estate professionals to resume their businesses in accordance with social distancing guidelines and waive municipal requirements to conduct inspections for the duration of the state's emergency declaration.
SB 327 would give county commissioners across the Commonwealth the authority to make the decision to re-open businesses in their communities.
While the vetoes of House Bills 2388 and 2414 and Senate Bill 327 were bad enough, members of the Legislature were confident they could get enough additional votes to override the governor's puzzling denial of these common-sense reopen measures. In the House, for example, only 13 more votes were needed for the override, and with the bipartisan support the legislation had initially, that seemed like a very plausible scenario.
Until the governor actually entered his vetoes, that is.
House Democrats who had previously summoned up the political courage to reopen Pennsylvania in a safe, measured, and reasonable way, suddenly reverted back to becoming liberal automatons, more fearful of the blowback from their own misguided leadership than the consequences their poor decisions are having on the struggling, tax-paying citizens of our Commonwealth.
The image below identifies eight Democrats who voted with the majority to reopen Pennsylvania last week.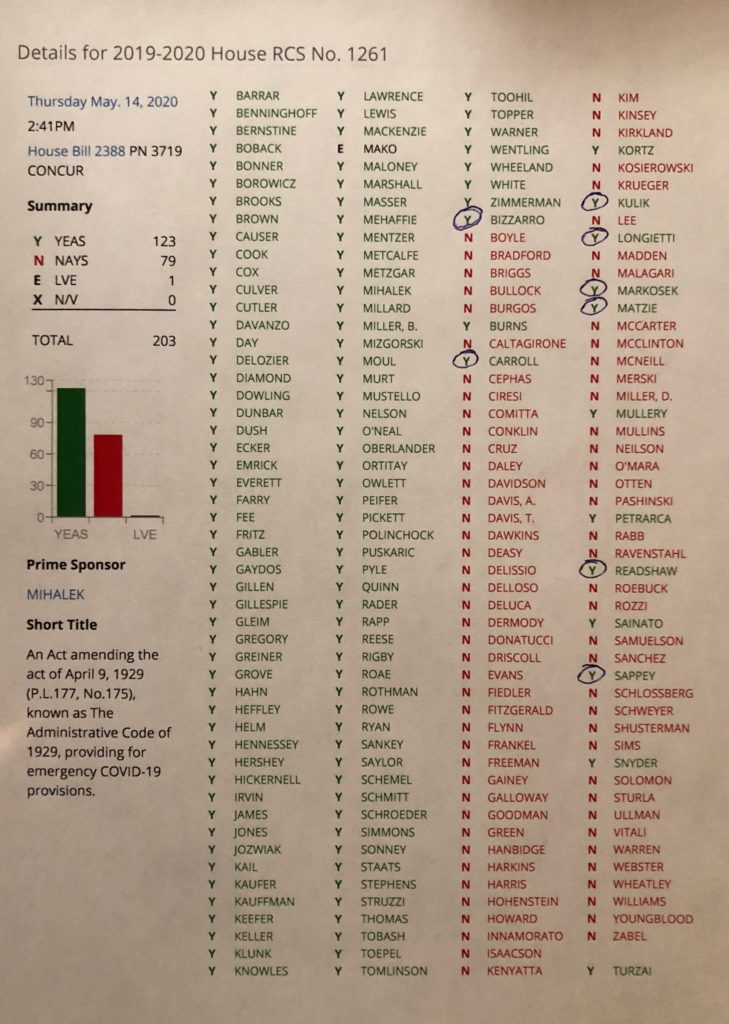 The following image is from yesterday's roll call vote.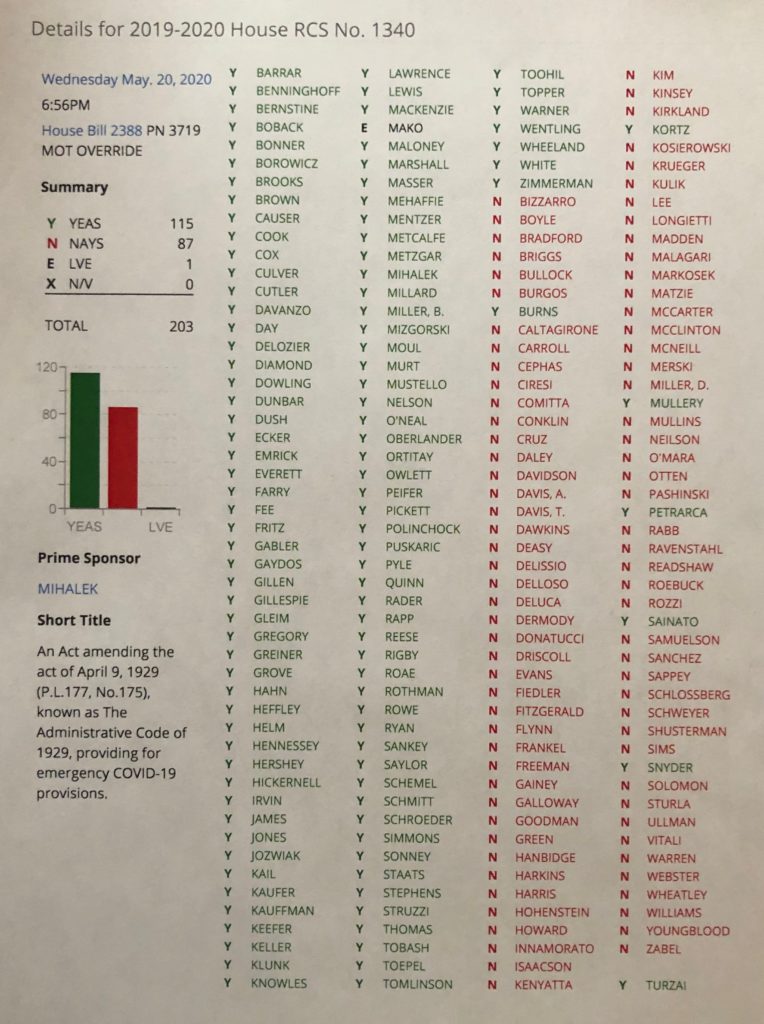 The only reason these eight Democrats changed their votes is because the governor who shares their political affiliation chose to veto the bills. Rather than step out of line with their party, these Democrats chose to betray Pennsylvania's newly unemployed workers and the small businesses who make up the bulk of our economy.
There really can be no other explanation.
Pennsylvania Needs Your Help!
So, now I'm asking the patriots of our Commonwealth for a huge favor. If you know someone — be it a friend, a relative, an old-classmate or even a Facebook acquaintance — who lives in the district of one of these eight lawmakers, please call them, email them, text them, or visit them. For the sake of our economy and and the future of Pennsylvania, ask them to contact their representatives and convince them to vote to support the reopening of our state. House members plan to take up the override bill again and we need these folks back on board.
I'll even give you their websites and numbers:
---
Also, if you know anyone who lives in the districts of any of the other House Democrats, please call them and encourage them to contact their legislator and ask them to vote in favor of the override. Pennsylvania's economic welfare is simply too important to allow partisanship to get in the way.
Let's help these folks find their political courage again.
Thank you, and God bless.